Frisse Oren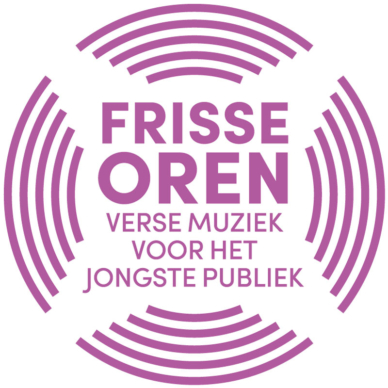 Frisse Oren wants as many children as possible between the ages of 6 months and 6 years to experience new music performed live, in poetic, relevant and unconventional productions that touch them, their parents and their grandparents aesthetically and emotionally.
Music carries you away, nurtures, brings people together and shapes you as a person. It doesn't start when you are 8, or when you are 4, but in the very first year of life. It's with this conviction that Frisse Oren makes music shows for children from 6 months to 6 years old: fresh music for the youngest audiences!
Above all, Frisse Oren wants to convey the pleasure of creating and listening to music.
Children aren't just tomorrow's concert audience, they are the audience of today.
Children are an audience in their own right, consumers of art to be taken seriously. They possess the ability to live in the moment, to experience different forms of the arts and to attach their own significance to them. They are unbiased. They don't have the rules and prejudices to pigeonhole experience yet.
The musical, the physical and the theatrical of Frisse Oren's performers merge in a unique form that provokes the imagination and wonder of young children. It allows them the freedom to experience the poetry of the moment and to create their own story.
Our music theatre productions are tailor-made and performed close to and in contact with the audience. With the exception of The Tiny Tree, they are wordless, making them accessible for all young children, parents and grandparents, irrespective of their cultural background.
Frisse Oren
It's a new name in the performing arts, but Frisse Oren – literally 'fresh ears' – is also very well known…
The performers and artistic drives behind Muziekvoorstelling.nl, the Wervelwind Ensemble, Koperkwintet KWIVR and Alle Hoeken van de Kamermuziek joined together on 1st January 2021 to form one new collective, Frisse Oren. The same aims, performers and professionality, but under a new name.
We are extremely happy and proud that the years of pioneering work we have invested in making music productions for children have been rewarded with a 4-year structural subsidy from Performing Arts Fund NL. This means that, for the next 4 years, we can develop even further and go deeper into making poetic and unconventional music productions for the best audience in the world. It also feels like significant recognition of our conviction that very young children must be taken seriously as an audience.
Current productions
Frisse Oren offers seven performances that are being played outside of the Netherlands. These shows are for children in the age of 0,5 to 6 years (and their parents):
Brochure
This brochure describes five productions for the very youngest and their parents and guardians The shows are just as suitable for creches, pre- and infant schools, including special needs, as they are for concert halls, theatres and festivals. You can read all the info on our performances in this brochure:
International agenda
Since June 2015 Frisse Oren has been travelling around Europe, playing Whoosh!, Twirl etc. on international festivals and stages. Check out our International Agenda!
Visit
If you want to visit one of our performances in The Netherlands, check out our agenda.
Stay tuned!
The productions of Frisse Oren are regularly staged at unique locations and during extraordinary festivals. The three companies also participate in innovative (educational) music projects. Follow us and stay tuned about our 'fresh music for a young audience'!
Facebook: www.facebook.com/frisseoren
Twitter: @jeugdmuziek
Sign up for our newsletter at www.frisseoren.nl or send an e-mail to info@frisseoren.nl
Frisse Oren
Information and sales: Anneke Wensink
Balistraat 74
3531 PZ Utrecht
The Netherlands
t. 0031-(0)6 25058435
e. info@frisseoren.nl
w. www.frisseoren.nl