Frisse Oren
Frisse Oren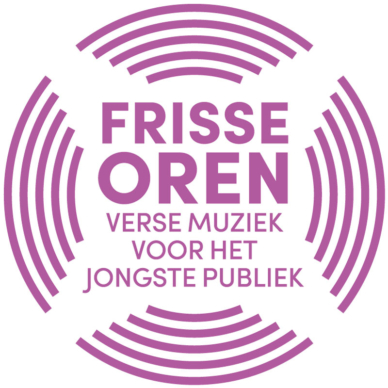 Frisse Oren plays musical theater performances for children (and parents) in the age of 6 months to 6 years. All of our performances are music productions without spoken text, in which the power of music and the narrative skill of movement take centre stage. With these productions Frisse Oren wants to stimulate children and parents to undertake an adventurous journey together by creating a musical performance in which both children and adults are addressed in a aesthetic, substantive and emotional manner.
New music for youngsters
Inspiring stories
Direct interaction with the audience
For all locations, from community centres to concert halls
School shows and educational projects
More than 100 shows a year
Three ensembles become one company
For over 15 years Frisse Oren has performed it's original live music for as many children as possible. Frisse Oren orginally consisted of the three ensembles Alle Hoeken van de Kamermuziek, Brass Ensemble KWIVR and Wervelwind Ensemble, performing under the umbrella organization Muziekvoorstelling.nl. Now the musicians join forces into one company: Frisse Oren.
Frisse Oren has obtained a secure spot in the youth programme of big concert halls, theatres and festivals. Because of the musicians' adventurous attitude and the nature of the shows, they can often be performed at locations where there are none of the facilities of a normal theatre, such as a gym, a church or in open air, which was the case during the new festival Wonderfeel or on the Vuurtoreneiland at Durgerdam (Grachtenfestival, Amsterdam).
Current productions
Frisse Oren offers four performances that are being played outside of the Netherlands. These shows are for children in the age of 1 to 4 years (and their parents):
Stretch is a brandnew performance that is being made as we speak. To premiere at the 2 Turven Hoog Festival, March/April 2021.
The Tiny Tree is a heart-warming chamber opera for children (4+). Translated in German for the Elbphilharmony Hamburg and to be translated in English.
International agenda
Since June 2015 Frisse Oren has been travelling around Europe, playing Whoosh! and Twirl on international festivals and stages. Check out our International Agenda!
Visit
If you want to visit one of our performances in The Netherlands, check out our agenda.
Stay tuned!
The productions of Frisse Oren are regularly staged at unique locations and during extraordinary festivals. The three companies also participate in innovative (educational) music projects. Follow us and stay tuned about our 'fresh music for a young audience'!
Facebook: www.facebook.com/frisseoren
Twitter: @jeugdmuziek
Sign up for our newsletter at www.frisse-oren.nl or send an e-mail to info@frisseoren.nl
Frisse Oren
Information and sales: Anneke Wensink
Balistraat 74
3531 PZ Utrecht
The Netherlands
t. 0031-(0)6 25058435
e. info@frisseoren.nl
w. www.frisse-oren.nl